Services & Pricing
Driving your shed sales has never been easier with ShedPro's all-in-one sales solution
Unbeatable & affordable pricing
3D ShedPro Configurator
We provide a highly custom, low-touch sales experience to your customers with the highest quality of 3D shed design & user interface on the market
Talk to us
Sales-Focused Website
The shed industry is evolving faster than ever, and you need a web marketing solution that can stay ahead of the curve. Let's see how your shed website looks like!
Talk to us
Google Ads Management
Enhance your shed business' brand awareness, get more customers and close more deals with our help in Google Ads Management
Talk to us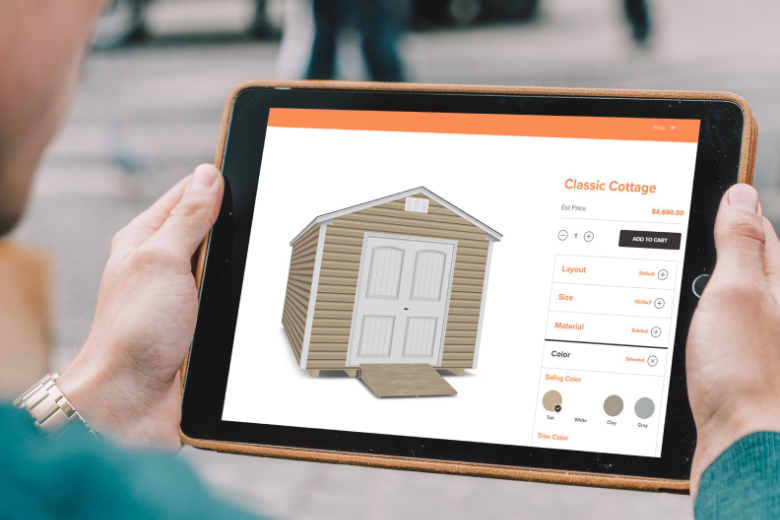 Close more deals faster, for less
ShedPro is a powerful solution to boost your shed business' revenue without the high costs. Try it today to get a higher conversion rate and happier customers!
Have questions?
What do shed businesses
love about ShedPro
Generate More Leads
Add 3D ShedPro Configurator to your existing website and immediately start converting more leads
Maximize Your Investment Efficiency (ROI)
Increase your sale price by 5-12% and up to 20% with a short payback period (Low upfront costs repaid within 1 year)
Grow Your Business
Break the traditional shed business's geographical limits, and reduce expenses in labor, land leases by taking advantage of technology
Highly-Custom Experience
Your customers can visualize the exact shed they want, including color, size, and any add-on features like ramps, dormers, and more.
Low-Touch Sales
Provide a highly-custom, low-touch sales experience to your customers with 3D ShedPro Configurator
Shorten Your Sales Cycle
Immediately capture the sale with secure online payment processing, invoice creation that is sent to your sales team, or a rent to own payment option
Discover the amazing features of
3D ShedPro Configurator
Easy integration with existing websites
Multiple shed layout and model options
Add-ons/Upgrades (doors, windows, ramps, etc.)
Zoom in/out, rotate to view all sides
Integration with Digital Campaigns (ads/content marketing)
Easily add new colors/materials/add-ons to existing sheds
Easy to configure, preview and save screenshot a personalized building design
Custom colors, materials, trims, roofs, siding
Custom models to match your sheds
Onsite credit card payment processing
Dynamic pricing for individual features/custom add-ons
Ready to learn more?
We would happily spend 30 mins telling you everything you need to know.