New shifts in the shed industry
The previous two years have made the biggest impact in growth for the shed industry in its history. New customers have come onto the shed market because they are working from home. Additionally, modern sheds with modern features are starting to come into the market.
New shifts and price increases have made shed businesses think outside the box and look towards an online approach.
"Ten years ago it was all about the shed lot and your sign". We recently heard this from a head of sales/marketing describing the shed industry ten years ago. Well, now the change looks different.
Physical lots for showing shed designs could cost a shed company $150K or more a year to rent and build/place their inventory on it. Then, on top of that, the company has to find ways to get their customers to come to them.
Instead, there is an effective/efficient way to showcase the quality of your building but to always be present for the customer when they are interested: a good website.


The importance of online presence for shed businesses
Research from KPMG has shown that 55% of people search online for a review and recommendations before making any purchase1. 51.6% of searches are done on a mobile device. That is why it is so important for your business to go online.
19% of small businesses without a website believe that they'd grow their business by 25% in three years or less with the benefit of a website.
When you want to make a purchase, start tracking how often you go to your phone or computer to search it before you make the purchase.
Your customers are heading online, and by 2040 it's estimated that 95% of all purchases will be done online (according to Nasdaq)2.
Even if you are new to the shed industry or going to retire soon, the best way to go is to start developing your "Online Shed Lot.". Not only will this work for you 24/7, but it will save time/money if set up properly.


How to best present your shed business online
There are many ways you can establish your business presence online, but here is what we suggest you do:

1. Make sure you have a basic or user-friendly (easy to navigate) website.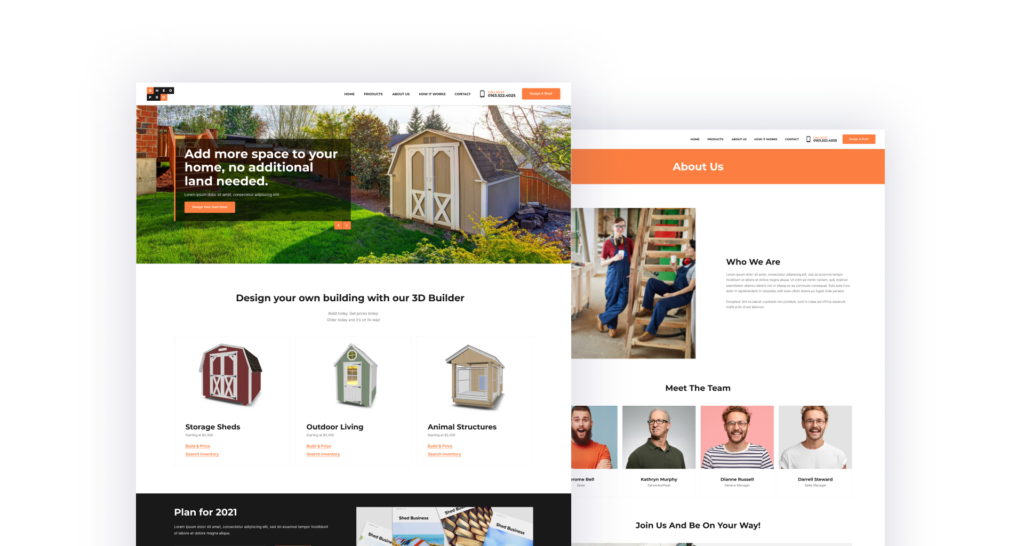 2. Be sure your website is mobile-friendly (Test it now)

Since 50%+ of searches are from a phone or other mobile devices, it makes sense that your website should be mobile-friendly.

3. Utilize an e-commerce check-out system.

When you are shopping online, customers are used to a shopping cart. This is a place where you can put your items before you check out. It provides the customer a familiar experience when online.
You can make your site even more user-friendly if you have a 3D shed builder tool (checkout ShedPro's 3D Configurator). But even if you are just posting pictures of your shed, be sure that the customer can add the shed to a cart and then check out.
Maybe you don't want your customers to purchase your sheds online—and that's okay. You should at least make sure you have a way to collect their information (name, email, phone number) so you can send them personalized information.

4. Data is king

If you don't have a website or process that isn't tracking the ROI (return-on-investment) then you need to reconsider what you are using. In today's world, if your web developer or marketing person says, "I can't get you the numbers," then maybe it's time to switch.
You can get data on the clicks, views, average time users spent on a page, and even the demographics of the user (age, geography, etc). For example, one of the tools you can use to get these customer insights is Google Analytics.
Gathering this data will help inform your team about the clear direction your shed business should go with online marketing. Check out this helpful article in ShedBuilder Magazine."


Considering presenting your shed business online? Get help from the expert.
As this market continues to grow, we invite you to reach out to ShedPro to set up a FREE consultation to help guide your shed business to a better online presence. We create sales-focused websites and modern 3D shed builder tools that help your business capture new leads and close more deals.
We've been in this online marketing industry for over 10 years. We want to help the shed industry reach new heights by moving more towards online. Contact us today by filling out the form below.



Reference:
KPMG. (January 2017). The truth about online consumers. Retrieved from https://home.kpmg/tr/en/home/insights/2017/01/the-truth-about-online-consumers.html
Nasdaq. (2017). UK Online Shopping and E-Commerce Statistics. https://www.nasdaq.com/articles/uk-online-shopping-and-e-commerce-statistics-2017-2017-03-14