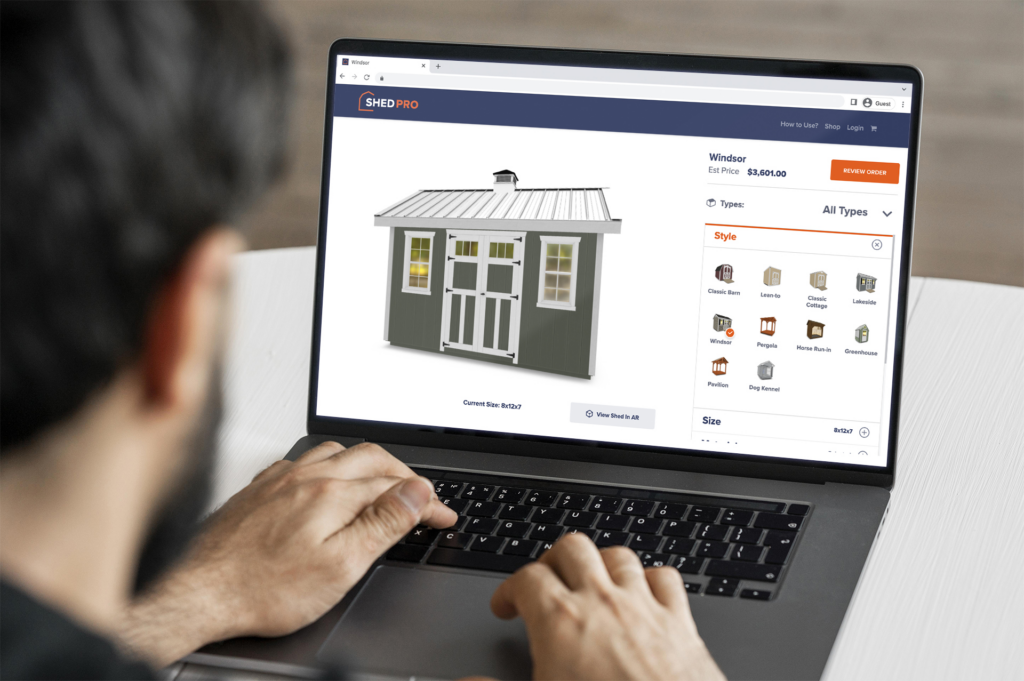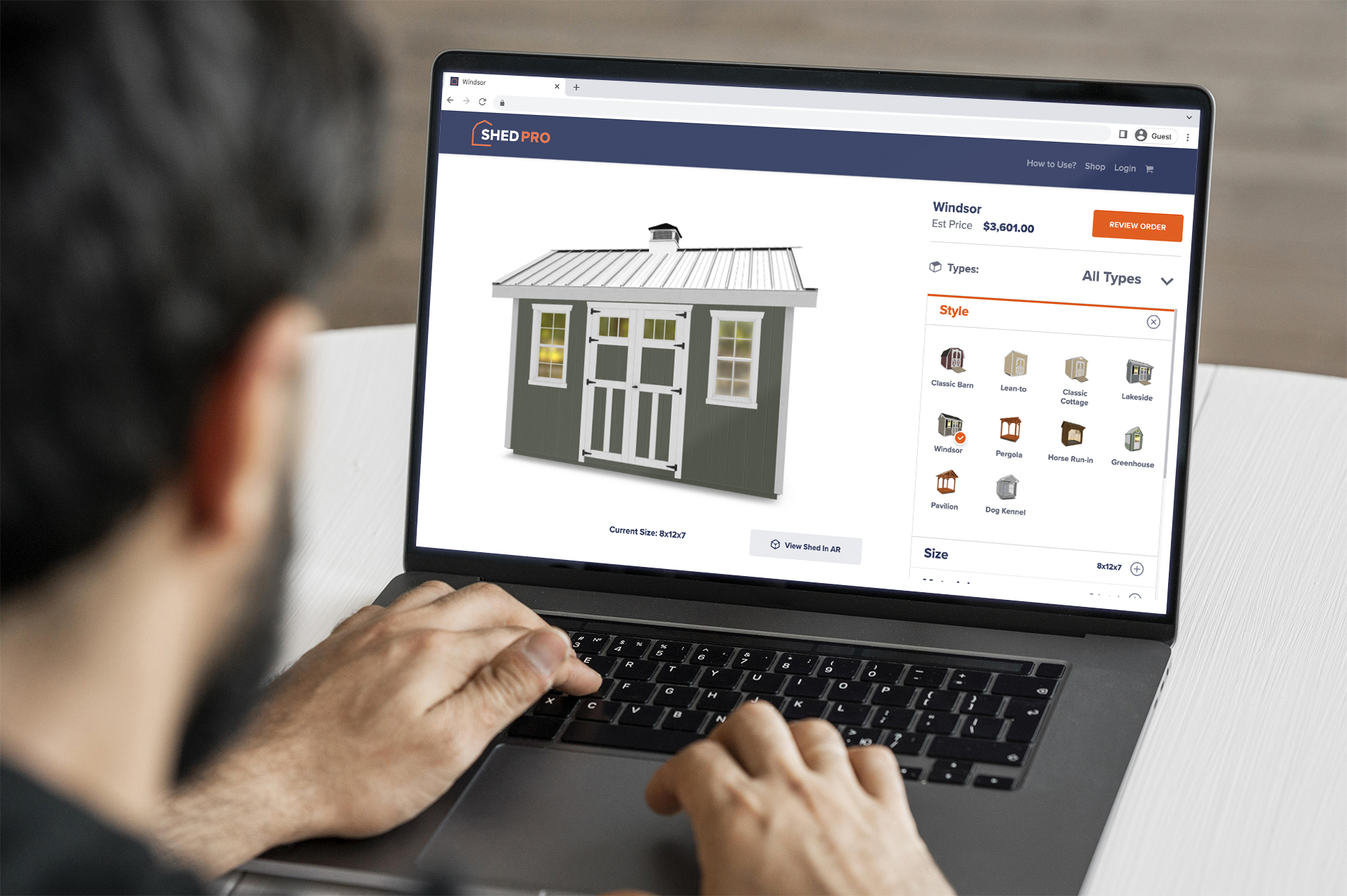 Shopping online has taken a whole new meaning because of the pandemic. Before 2019, only 22% of people bought their groceries online. In 2020, it was estimated that only 42% of people bought their groceries online. We believe that number is much higher now since we see the ease of buying online and just picking them up!
Now the shed industry is starting to make some great strides within the technology world, and more companies are starting to take the plunge. The 3D configurator is one of those main products that help your customers "try before they buy."
What is a 3D configurator?
3D shed configurators (or 3D shed builders) get your sheds in front of the customers, providing the opportunity for the potential customers to move the shed around and see all sides of the shed.
Your customers can easily design a shed online and see what it's going to look like (color, shape, material, etc.) before they purchase through the platform. They can try placing a window or door on a wall, placing an awning, or changing the color of the roof/siding.
Think of the 3D shed configurator as a visual shed for both the customer and the builder to see and agree upon before it's even built.
The configurator can be connected to your website through a button/link. When the customer clicks, they will be taken to the ShedPro configurator, which seamlessly integrates with the look and feel of your website.
If you'd like to get a full picture of what your customers can do with a 3D shed builder tool, let us show you a free demo of our ShedPro configurator.
When choosing a 3D configurator, make sure it's mobile-friendly.
The majority of searches happen on a mobile device. So if your configurator doesn't allow a customer who is on your lot or at home on their couch to configure a shed from their device, it's going to be hard to make that sale. It only takes .05 seconds for a user to see if they want to move forward with the website or not1.
Benefits of the 3D shed builders to your sales team
You might be saying now, "I don't have time to take on more sales!" But stay with us. The shed configurator will provide an effective and efficient way to sell more in less time and keep your team updated.
Take into consideration the number of times you are describing or drawing out a customer's shed. This is time and money that is being wasted instead of having a 3D design that you both can see and agree upon.
Why not design it for them on your shed configurator and then send them the link?
You can always save that order for them within the ShedPro platform. It's also great to have their name and email address to follow up with them after you sent the link.
Why you should choose ShedPro 3D Configurator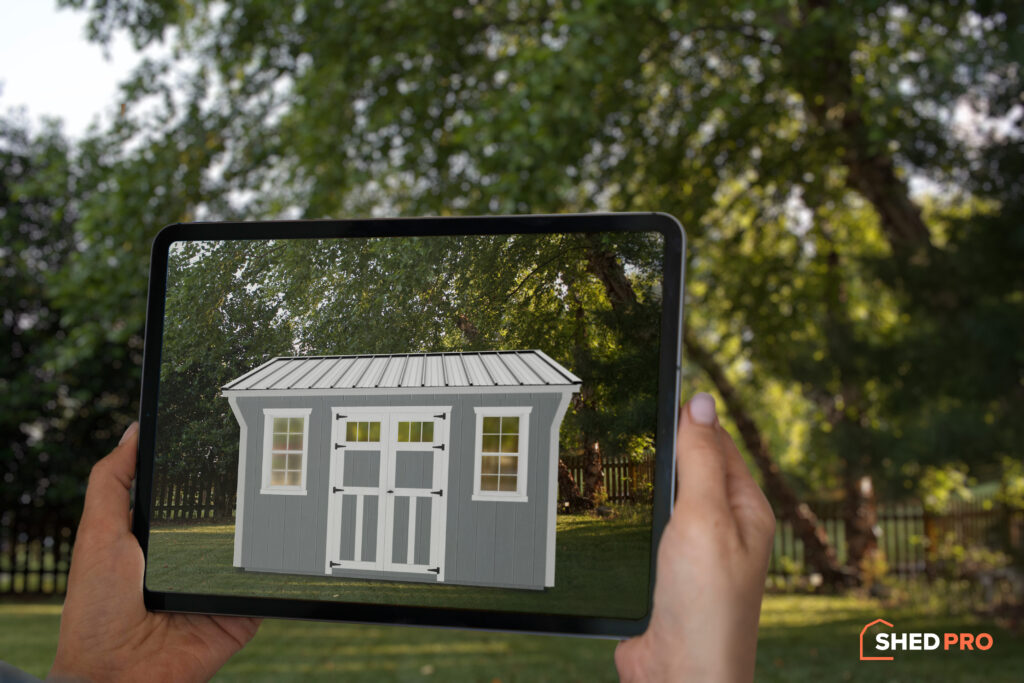 You are probably thinking right now that all shed configurators are the same. I can just choose one that's the cheapest or most expensive and it will work for me.
Well, you are probably wrong. Let us show you how our 3D shed configurator is different.
ShedPro 3D configurator has excellent model quality
Each configurator will be different based on the quality of the pixels of the shed and the features it holds. When we say pixel, we are referring to the quality of the 3D design of the shed.
Does it look like a shed or a box with windows when you are viewing the product?
Test this out – try scrolling really close to the building in the configurator. Are you able to see the wood grain, are you able to see the company's name on that shed?
When you get close to this shed online, how similar is it to a shed in real life? You'd like for the customer to be able to see quality because you are building quality. Our 3D shed builder tool provides you with exactly what you need to showcase it.
Multiple features and constant updates
Besides letting customers try out different shed styles, colors, sizes, and exteriors, ShedPro configurator offers more features, such as pricing on the shed as they are designing, or the ability for the client to check out through a cart and pay for the shed.
You will also see features like augmented reality (more on that to come), the ability to make material (wood, metal, etc.) changes, and the option to see a 2D drawing of your shed if needed.
In addition to that, we handle all the hassle of dealing with any server or feature updates on the ShedPro configurator and push them to you for free.
All of that comes with a big plus: ShedPro doesn't have a percentage charge per sale. We have a flat fee per month because we value our customers and want them to succeed in a fluctuating market.
ShedPro configurator is flexible in connecting with other platforms
What really sets one shed configurator apart from another is the customer interface or backend. The backends or admin panels look different and provide different functionalities based on the experience of the development team.
Some configurators might not have the capability to connect to other platforms like your CRM, ERP, or email marketing. They might provide only one service, which would be the 3D configuration of the shed. Other configurators might have the ability to connect the configurator to the systems you currently use or already have an easy way through an API to make it work.
ShedPro can provide the flexibility to connect your ads, website, and configurator to your CRM, ERP, and email marketing to engage your customers. This provides an easy way to track all your sales, potential customers, and other data you can use to sell more.
Need more information about our 3D shed configurator? Reach out to ShedPro for a free demo or fill out the form below for any questions you might have!
Reference:
Gitte Lindgaard et al. (2011). Attention web designers: You have 50 milliseconds to make a good first impression!